Story by Taylor Pittman, senior at McDonogh 35 High School
This story was originally published in an ongoing partnership with The Gambit. The following is that article, verbatim.
Last year on Mardi Gras Day, Imani Powell woke up at 5 a.m. to get to school for band warm-ups. Donning her feathered cap and purple and yellow jacket, the 17-year-old instinctively rattled the valves on her trumpet while some of her best friends did the same next to her. The only thing on her mind in that moment was that shiny Rex trophy.
"I was nervous, but I just wanted our lines to be straight and the music to sound good," Powell says.
Her school, Warren Easton Charter High School, had won the Rex parade's band contest four years in a row, so she figured the nerves would ease. But it wasn't until marching past Jesuit High School's band that she was able to shake the jitters. Stepping high as she possibly could, her world stopped, her mind drifting effortlessly between the bars of sheet music that took so long to memorize.
At one point farther down St. Charles Avenue — after passing the judges — her band director announced that they just won the trophy for the fifth year in a row. They broke their pristine formation to celebrate, and some band members cried tears of joy — especially those wearing sashes that said "senior." As they neared the end of the route, band members took out their mouthpieces and swapped instruments. Powell took on a baritone, tapping into an unknown talent for a horn of entirely new dimensions. It was a hard flex for the five-time champs of Mardi Gras.
Afterwards on the bus to the school, students began passing the trophy around, posing for selfies. Powell, a junior at the time, initiated the chant "six-peat! six-peat!" urging her team on to win again in 2021.
But there will be no six-peat, at least not for Powell. Instead, there's a lingering sense of loss, a hole where band practices and early morning nerves should be, a hole punched into her life — and the lives of thousands of other New Orleans teens — by the COVID-19 pandemic.
The rise of COVID-19 in New Orleans has been anything but festive — with many of the state's earliest cases traced to last year's Carnival celebrations. So on Nov. 17, 2020, when all 2021 parades were canceled, it was understandable that Mayor Latoya Cantrell was trying to prevent another massive super-spreader event from happening. There have been solutions to many missing aspects of the holiday, but one beating heart of the Mardi Gras spirit will be removed entirely: school marching bands and dance auxiliaries.
On a normal year, you can fill your hands with different throws, eyes with brightly colored Indian suits and costumes in parades. But plenty of people point to the highly-skilled local school dancers and brass bands as their favorite parts of the Mardi Gras season.
As a casual local observer, it's easy to take the swishing banners, the drum major's high step, and the goosebump-inducing blare of harmonizing brass for granted. School bands sometimes pass by in a flash. But each troupe and its coordinated routines can take nearly a year of practice to master. And with school being such a short cycle of time, missing a single year can be devastating for students.
"This is supposed to be the moment where all those long runs at practice pay off and become everything you could imagine," Amber Muhammad, 17, captain of the flag team at McDonogh 35 Senior High says. "But now all of that is gone for us."
This year will mark the first year since a 1979 police union strike that a vast majority of parades have been canceled. The tradition of organized Mardi Gras parades didn't really pick up in the city until the Civil War era, when military bands featured heavily in parades. And it wasn't until the 1930s that high school bands started getting involved. In the '70s, dance schools got in on the act.
Marching bands have evolved over the years, from performing military songs to traditional New Orleans jazz to pop music. And that evolution has happened on a micro scale as well. Each year, bands bring something a little different — if they're doing it right.
The hardest part for students not marching during Mardi Gras this year is that they know exactly what they'll be missing.
"The spotlight is on you," says Coby Meija, 17, a trumpet player and drum major at McDonogh 35. "And everything you've been feeling from when the parade first started just takes over your body, and you get lost in the music."
Muhammad remembers a special moment from last year when her co-captain called her up to the front of the formation to lead the team on the last parade — in a literal passing of the baton for her senior year.
"It's like the Olympics," Muhammad says. "That adrenaline from people screaming my name and cheering me on felt like floating on life."
Of course every student has their favorite parade. Marchers spoke wistfully of years past and the specifics of individual parades that stuck out.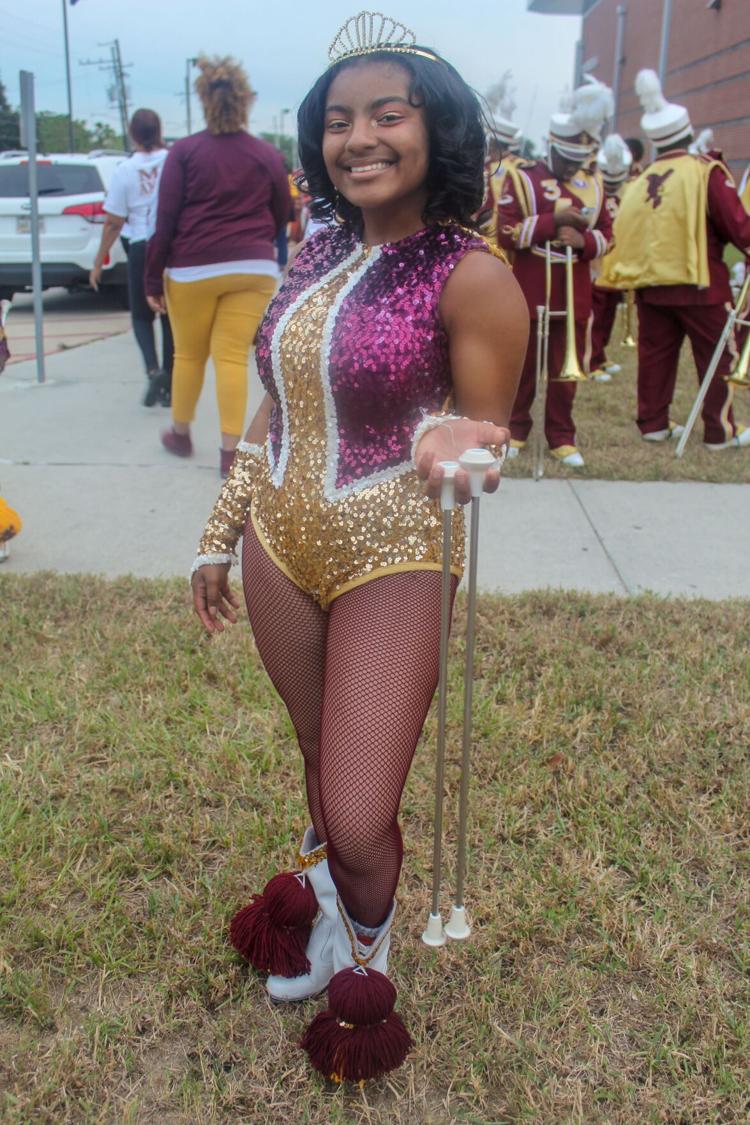 "Marching in Bacchus is so exciting because you get the rush from performing in the Convention Center," says Da'Shay Hooker, the 17-year-old captain of McDonogh 35's majorette team, referring to the superkrewe parade that takes place the last big weekend before Fat Tuesday. "And being on TV is amazing."
Some schools even get to look at the place where it all started. "I loved marching in Endymion because it's one of the biggest parades that passes in front of my school," Powell says. "It's tiring marching the long route, but it's worth seeing all of my people."
Bands and auxiliaries can march up to seven miles per route at around two miles per hour, with little to no rest. So while marchers' sensory overload is made up of glittery, dazzling visuals and sweet brass and drums that'll rattle tooth fillings, another sense plays a big factor for these musical athletes: the varied smells of the parade route.
"We only get little candies and water to keep us going, and we need more than that," Muhammad says, adding that the smell of food trucks begin to taunt her after she's a couple of miles deep down the route, having burned hundreds of calories.
"The smell of rain gets me excited," says Powell. "When that hits, I just know we are going to have fun the rest of the route."
But it wouldn't be rain that would eventually rain on high schoolers' parades — at least this year.
On the first day of classes after winter break, Jan. 4, Warren Easton band students came prepared to start focusing on their spring concert. Sanaia Polk,19, a cymbal player, sprinted out of class to make it to practice — she missed the 2020 parade season and was eager to use the concert as a way to get focused. After she burnt out all of her energy that day, one of her closest friends ran up to her and told her the devastating news. Her heart dropped to the bottom of her sneakers.
School was going to be canceled and she just knew deep down that her band dreams would be canceled too — but she still denied the truth.
But things were clearly not going to work out. Although Cantrell had canceled formal parades, she'd left any alternatives up to the individual krewes. Although the mayor insists that Mardi Gras isn't 'canceled,' per se — and even encouraged visitors from outside of the city to come — there's been little direction from the city.
Technically, balls and events may be held, but they won't look like anything we're used to. City rules generally cap private events at 10 people, and neither dancing nor buffets are allowed at this point. Although it appears some larger events might be allowed on a case by case basis, they would need explicit approval from the city and must be permitted. Bars are allowed to sell alcohol curbside and in go cups, but indoor seating is not permitted. House parties are also allowed if they are limited to people who live in one home.
"None of the alternate ideas put forth by the krewes allow us to participate," McDonogh 35 Senior High Band Director Lawrence Rawlins says. "We haven't been able to practice and don't have the proper preparation needed. There are only about six bands in New Orleans that can do that, and we are not one of them."
Students expected to have a more solid option on the table from schools or the city before the parade season began.
"I feel like [Cantrell] did not even try to think of any alternatives," Powell says.
The only music that will be getting played throughout neighborhoods will be on speakers and different DJs, but students believe nothing can compare to the authentic sound of horns and drums being played by a full brass band.
Lyric Andrew, 17, believes that the bands are the highlight of the holiday itself. "What does Mardi Gras even truly sound like without music?" Andrew says. "People can't dance without their souls being filled with the true spirit of the holiday."
"You never know what somebody is going through at home when they get to the parade," Powell says. "And it can make the whole difference in their life — hearing it — whether you know it or not."
Aside from performances, nearly all schools have canceled practice altogether. St. Augustine High School is one of the few band programs practicing right now to prepare for a possible season.
Few bands got to experience this year's past football season, and many are currently not practicing. And if they are practicing or playing, they are required to wear a band mask and have instrument covers, according to CDC guidelines. Think of the bell of horns as an amplifier of the kind of aerosols that spread the virus.
McDonogh 35 is one of many schools that decided to not let their band students participate in practice or any band-related events since the summer.
"We just did not know how risky practicing was," Rawlins says. "And my biggest concern is the safety of our students. Many of the schools that participated during football season did not follow the CDC guidelines — no bell covers and no masks — and nothing was done about it."
Rawlins says that McDonogh 35 had the proper band equipment to follow the guidelines, but that he felt the risk was still too high. Yet band and auxiliary students were upset about the double standard applied to them and sports teams.
"Football is a contact sport that was still pushed to get played, and they won," Hooker says. "We asked for a socially distanced practice, but now the concern is too high? We understand safety, but as auxiliaries, we don't even touch each other, and we were still not allowed to practice through this whole pandemic."
But ultimately, Rawlins sided with Cantrell, understanding that the toll of the virus is beyond the scale of one Mardi Gras.
"Let this lady do her job and shut the city down," Rawlins says, pointing out how crowded Mardi Gras can be. "Every Sunday during Mardi Gras, you see how packed it is underneath the [I-10]."
Rawlins is talking about the culture band students love most about Mardi Gras. Underneath the Pontchartrain Expressway on St. Charles, there are almost always brass bands and different food trucks crowding the six-lane width. In years past, it's a celebration. But for now, it makes for an unsafe environment.
Mardi Gras crowds are usually drawn to the excitement of Bourbon or Canal street, but it's a tradition for many Black families to watch Zulu pass under I-10 and gather as a community. For many people, that's exactly where you watch family members pass by.
"I love to see everyone gather around us while we're marching and cheer us on like we are family," Powell chirps. "It's amazing to see all of these different people come together and have a good time."
Freshmen will miss out on an important formative year of band practice, adjusting to the higher standards that come with the rigor of high school bands and auxiliaries. It's a step up from the lower schools that participate in Mardi Gras, but freshmen at least have time to make up for the slack. Seniors, on the other hand, are missing out on an important final year that sometimes results in scholarships.
"I'm still up for band scholarships because my band director is helping me get one," Powell says. Not all students, though, have that opportunity and were hoping to have the chance to earn theirs in their senior year.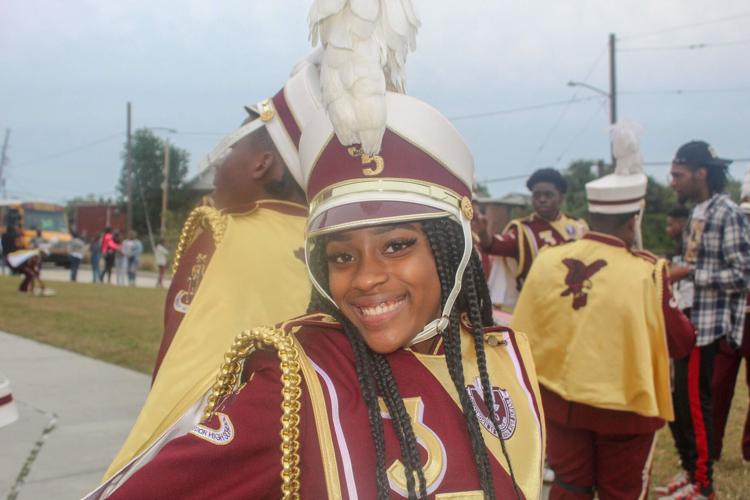 Some students believe that this missing year will cause them to be unprepared for future performances in college, so they came up with alternate plans.
"I didn't even plan on marching this year because I knew I wouldn't be able to get a scholarship, so I decided to focus on softball," says Jahira Sanders, 17, a clarinet player at McDonogh 35. Sanders and other seniors dedicated hours after school practicing to prepare for a senior parade season that they would never have. Others were devastated because they could not play those solos they knew they wanted in their senior year.
Amber Muhammad thinks that the only solution to a lost parade season is a kind of battle of the bands, held in the same way that Grambling and Southern play at the Bayou Classic, which could allow bands to play while keeping their distance. Muhammad feels like the audience could pan out like how NFL games have been played recently: sparse but attended at the same time.
"I want to look the flag team captain of another school in their eyes and make them feel fear in their chest and hearts," Muhammad says. "They need to know that I am the best captain to ever walk the streets of New Orleans."
There's so much seniors have to offer to their final year. Yes, there are throws to catch, but nothing really compares to the feeling of that band playing a song you know intimately, arranged in a different way.
"You worry about everybody looking good and being on the same movement," Hooker says. "Everything has to be clean, clear, and precise, or we might just turn into the next joke on Twitter."
"I am probably not going to do anything this big in college," Muhammad says. "So it meant everything to me to leave it all out there on the streets this year."
With seniors on their way out — with a season that robbed them — they have a bit of advice for the younger recruits:
"Play like it's your last parade marching," says Powell, "because you'll never know when it is over."
---
Editor's note: This is one of a series of stories Gambit is running on how Carnival plans are changing due to the coronavirus. This article continues a conversation from Gambit's Dec. 1 and Jan. 5 issues.
Also, this story is part of an ongoing series of pieces by young journalists that Gambit is running in partnership with JRNOLA, a local nonprofit that works with aspiring journalists in our area. Through this ongoing partnership, we hope to not only give JRNOLA students real-world experience, but to also provide them a platform to tell stories that are important to them. Please consider supporting them by donating here.